On which instrument do you rely the most regarding all your valuable samples, the work of years, even decades?

Many researchers spend much time thinking about the right sequencer, cycler, spectrophotometer but ignoring the instrument where they store their scientific treasure – to which they entrust their highly valuable samples.
The large boxes in the hallways: The ULT freezers.

Reliability, sustainability, economics, safety – these are the corner stones for selecting the next ULT freezer.


Reliability

Long-lasting instruments require high-quality parts and reliable working conditions. The two-cascade cooling system of Eppendorf freezers provides high sample safety.


Sustainability and economics

ULT freezers run 24/7. They have to. Many equipment manufacturers and customers alike have recently put an emphasis on energy efficiency. For Eppendorf freezers, this has been a prime concern for years. ULT freezers are virtually never turned off and compared to other lab systems can draw a high amount of energy to maintain the very low temperatures required for sample preservation. Optimized insulation, highly efficient compressor systems, and smart control technology within our last generational update resulted in:

The old Premium U570 versus the CryoCube F570:
11.8 kWh/day versus 10.5 kWh/day = 15 % less energy consumption

The old HEF U570 versus the CryoCube F570h:
8.9 kWh/day versus 7.6 kWh/day = 14 % less energy consumption

The old Premium C660 versus the CryoCube FC660:
14.3 kWh/day versus 10.6 kWh/day = 25 % less energy consumption

The old HEF C660 versus the CryoCube FC660h:
11.4 kWh/day versus 8.1 kWh/day = 29 % less energy consumption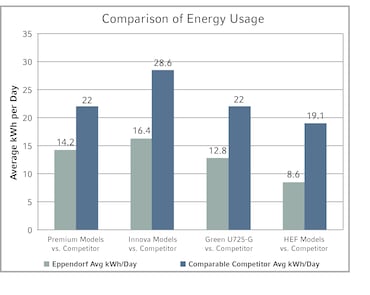 Eppendorf offers three lines of freezers to meet a variety of needs:

The Eppendorf High-Efficiency ULT Freezers are one of the best energy-efficient freezers in the market. The vacuum insulation panel technology is the core: an advanced thermal insulation technology that significantly outperforms traditional materials such as closed-cell foams (urethane), foam beads, and fiber blankets. Vacuum insulation removes gasses within the insulating space to reduce heat transfer; as a result, thermal insulation performance far exceeds traditional materials. Other freezers use vacuum insulation panel technology, but none use Vacupor NT®. Vacupor panels not only provide exceptional thermal insulation, they have a metal-coated polymer film barrier seal to maintain vacuum and they are composed of biodegradable, CFC-free, and HCFC-free materials.

The Eppendorf Innova® ULT Freezers combine ultra-efficient insulation panels with foam insulation, generating a maximized storage capacity.

The Eppendorf ULT Freezers have established a reputation for preserving outstanding sample quality while minimizing energy consumption.